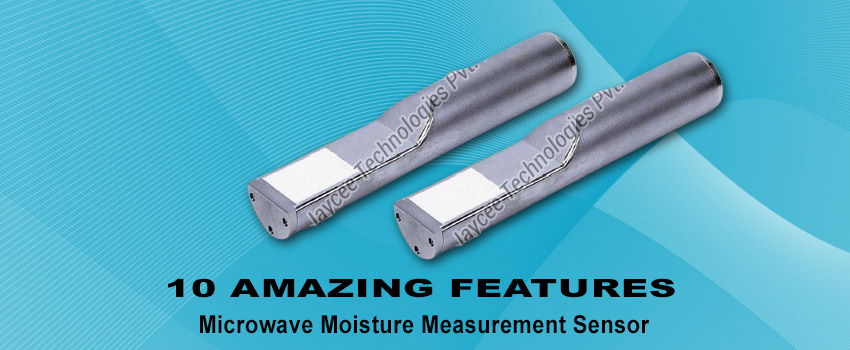 Accurate moisture measurement is essential for assuring product quality and process effectiveness in a variety of industries, from manufacturing to agriculture. The Microwave Moisture Measurement Sensor, a device that has transformed how moisture content is detected in diverse materials, is one of the most amazing developments in this sector.


Continue reading to learn the remarkable features of the Microwave Moisture Measurement Sensor.



Digital Accuracy for Correct Readings
Digital technology is used by microwave moisture measuring sensors to produce very accurate linear moisture measurements. In sectors where even a small difference in moisture content can have a big influence on product quality and performance, this degree of precision is crucial.



Advanced Digital Signal Processing
A sophisticated Digital Signal Processing (DSP) system is included inside the sensors. This indicates that the sensor's signals are digitally processed, producing a clear signal, noise-free, and have a quick reaction time. This is essential for controlling and monitoring moisture in real time in a variety of applications.



Flexible Measurement Methods
To optimise sensor performance for particular applications and material types, these sensors provide a variety of measurement modes. You may adjust the sensor's parameters to precisely meet your requirements whether you're working with powders, grains, or bulk materials.



Temperature Adjustment
Temperature changes can have an impact on the moisture content of materials. Measurements of moisture by microwave Because sensors are fully temperature adjusted, readings are always correct, regardless of temperature changes. This is crucial in areas with a wide range of climatic conditions.



Multiple Options for Output
These sensors offer adaptable data output. They provide adjustable digital input/output, two analogue outputs, and digital RS485 communications. Due to their adaptability, they may be easily integrated into current systems and work with a variety of control and monitoring tools.



Quick Reaction with 25 Measurements per Second
Speed is important in dynamic manufacturing or processing environments. With up to 25 readings per second, microwave moisture measuring sensors provide a great reaction time. This quick data collection guarantees that modifications are made in time to maintain acceptable moisture levels.



Telephonic Interaction Using Hydro-Com Software
These sensors include remote communication capabilities with Hydro-Com software to further improve use and control. Users can remotely set sensor settings, choose desired sensor outputs, see data as graphic traces, calibrate sensors, and even update firmware as necessary.



Performance Consistency with Minimal Recalibration
The capacity of these sensors to continue performing consistently over time is one of their distinguishing qualities. They provide dependability that minimises the requirement for calibration and lowers downtime and maintenance expenses. This is especially useful in sectors where continuous functioning is essential.



Design that is Strong and Reliable
Measurement of moisture by microwave Sensors are renowned for their dependable design and track record. They have a tough construction that can endure the rigours of industrial settings, guaranteeing long-term dependability and durability.



Simple Replacement Parts
These sensors have a replaceable ceramic faceplate and protecting ring in case the need arises. This useful design guarantees that replacement and maintenance chores are simple, minimising downtime and related expenses.



Conclusion
Microwave moisture measuring sensors have revolutionised moisture measurement across several sectors. They are indispensable devices for preserving product quality and process effectiveness because of their extraordinary characteristics, which include digital precision, sophisticated DSP, flexible measurement modes, and temperature adjustment.

These sensors provide precision and simplicity with their remote communication capability, quick reaction times, and low recalibration needs. Microwave Moisture Measurement Sensors have established themselves as essential tools in assuring quality control and optimisation, whether you're working with agricultural goods, industrial materials, or any other moisture-sensitive materials.

They serve as an example of the impact of innovation in the field of moisture-measuring technology due to their dependable performance and simplicity of maintenance.